All About It
6 Days 5 Nights
Difficulty - Moderate
Nestled in the laps of the larger-than-life Himalayas at a whopping 9800 ft, Ladakh is considered a rustic and idyllic travel goal for many people in India and around the world. And for a valid reason. The rugged valleys and mountains, winding roads united with the vibrant flora and fauna, exquisite culture maintain the jollity and charm of this enchanting place which makes people get drawn. It would not be wrong to say that, Ladakh, not only has long been on the map for adventure seekers but The iconic Magnetic Hill, The turquoise colored Pangong Lake, Mystical rivers, Wide array of trekking routes, Historic Monasteries, High Passes to name a few, Have been known to lure backpackers, families, admirers of culture & architecture, photographers, Food enthusiasts and nature lovers alike. So, what is holding you back? Pack your bags and get ready to say O-LEY! To the most enthralling and revered destination of India – 'LADAKH' the Travelmite Way!
Inclusions
Pickup & Drop according to fixed timing. Transportation: In Tempo Traveler from Leh to Leh. Bike Rent & Fuel from Leh to Leh. Riding Gears: Knee guard, Elbow guard, Helmet. *Note: Due to comfort and safety reasons, we recommend you all to carry you r own helmets for the ride. The helmets which we provide are of standard size so there can be some discrepancies regarding the sizes. Accommodations: On triple sharing basis as per the itinerary. Meal Plan: 10 Meals (Breakfast+ Dinner, Starting from Day 1 Dinner till Day 6 Breakfast) Trip Lead will be present at all times during the tour. Driver Allowances & Night Charges Backup Vehicle Mechanical Support Inner Line Permits First Aid Kits Oxygen Cylinders Infrared Thermometer Oximeter
Exclusions
Early check-in at the hotel. Any additional expenses such as of personal nature. Additional accommodation/food costs incurred due to any delay travel. Cost Of Any Spare Part Which Will Be Used Due To The Accidental Damage Incurred When The Motorbike Is In Rider's Possession. Cost Incurred To Transfer Or Tow The Motorbike In Case It Is Dropped On The Way. Vehicle Servicing Or Maintenance Cost Any lunch and other meals not mentioned in Package Inclusions. Any Airfare / Rail fare other than what is mentioned in "Inclusions" or any type of transportation from Manali or Srinagar. Parking and monument entry fees during sightseeing. Additional Costs due to Flight Cancellations, Landslides, Roadblocks, and other natural calamities. Vehicle servicing or maintenance cost and security deposit per motorbike of Rs.10,000/-. As per the deposit policy (This is refundable at the end of the trip if there is no damage or spare parts used.) Any other services not specified above in inclusions.
Things to Carry
Climatic conditions in the high altitudes vary from the plains; take adequate time to get acclimatized to high altitudes.
The management reserves all the right to modify the trek during any emergencies or natural calamities.
Consult a physician before undertaking the trek. Carry basic medications and a first-aid kit during the trek.
It is recommended to carry enough warm clothes and the right kind of shoes for the trek.
Pay heed to the trek guides and instructors in order to enjoy a safe and sound trek.
Water is very precious, so conservation is appreciated.
Avoid using earphones during the trek; this might hinder your audibility.
Guidelines issued by the State-Government are to be followed. Social distancing to be maintained. Frequent hand sanitization and use of mask is recommended.
Camping is very basic in nature. One must not expect luxuries. Electricity may be available only at a few locations/timings.
Mobile & laptop charging points may/may not be available on campsites at a common point.
Carry dry snacks/food from home (you will save a lot of money). Carry water bottles with you, so that you can refill.
Things To Carry:
Rucksack (60 Liters+)
Daypack
Gloves
Slippers
Suncap
Woolen Cap
Backpack Rain Cover
UV Protected Sunglasses
Inner Thermals (2 pairs)
Fleece Jacket
Warm Jacket
Down Jacket /Main Jacket
Raincoat/Poncho Socks (2 Woolen/2 Cotton)
Undergarments
Sturdy Comfortable Shoe
Comfortable Pants (Prefer Cargo/ Trek Pants )
Towels , FirstAid, Kit Torch, Water Bottle, Power Bank, Hand Sanitizer, Toiletries, Cold Cream, Lip Guard, Deodorant Personal Medication, Sunscreen Lotion (SPF 40+), Mobile Charger/Travel Charger, Documents – ID(Driver's License, AADHAR Card, Voter ID : Passport and Visa copy for Foreign Nationals
We understand that plans change sometimes. If you need to cancel/reduce/amend a guaranteed reservation, please do so latest by 12 noon, 20 days prior to arrival, to avoid cancellation charges. 100% non-refundable should there be any cancellation within 20 days of arrival (Booking amount is Non refundable).
Bookings made on non-cancellable/non-amendable packages/rates cannot be cancelled/amended. On doing so, the full amount of advance paid will be treated as the cancellation fee. The same terms apply in case if the guests don't show up.
For all bookings, if the guest don't show up the complete booking will be non-refundable.
No cancellations will be taken over the call or WhatsApp message. Please reply to the email of email confirmation that you have received at the time of booking regarding the cancellation.
There would be no refund provided in case there occur some problems due to government orders, harsh weather conditions, protests, landslides, or any delay due to other/any unforeseen circumstances. On the occasion of any such happenings, we have a backup plan ready most of the time and we'll be moving onto that. There are times when we would have to cancel some activities mentioned in the itinerary but it's only due to the reason that we would be bound by a circumstance that is not in our control.
If a trek/trip is called off at the last moment due to a natural calamity/unforeseen circumstances (like rain, snowfall, earthquake, landslides, strike, bandh, etc.) then the participants would be provided with a travel voucher for the same amount that can be used within 365 days of the issuance date for any package worth the same amount. (Subject to availability)
If a trek/trip has to be aborted midway due to a natural calamity/unforeseen circumstances (like rain, snowfall, earthquake, landslides, strike, bandh, etc.). In that case, no refund would be provided.
Travelmite will not bear any extra expense due to any natural calamity/unforeseen circumstances (like rain, snowfall, earthquake, landslides, strike, bandh, etc.).
Cancellations policy differs for popular destinations and also during peak season please get in touch with our sales agent for more details.
Frequest Questions
Question: Is Covid Certificate Required?
Answer: Yes, 72 hrs negative covid certificate is compulsory to enter Leh.
Question : What are symptoms of High Altitude Sickness and how can we prevent it?
Answer : Leh is located at a high altitude - nearly 11,000 feet above sea level. As one climbs higher, the amount of oxygen in the air begins to fall, so our body needs time to adjust it.
Few symptoms of AMS are:
Headache
Loss of appetite
disturbed sleep
Nausea
nose bleeding
coughing
breathlessness
exhaustion
Here are few things to keep in mind once you reach Leh.
If you taking a direct flight make sure to rest for atleast a day.
Keep yourself well hydrated
avoid drinking and smoking
avoid any strenuous activity and if possible stay indoors on first day.
Question : Do I need to take Diamox or any other medication for AMS before arriving at Leh?
Answer : No
Question : How will the weather be in summers?
Answer: May to August, temperature range (16°C in day to 3°C in night). Days are hot as it is high altitude desert , and nights get chilly
Question : Is it recommended to bring kids to this trip?
Answer : We don't recommend kids below 6 yrs for group trips. Kids more than 6 yrs are most welcome to join us provided they are fit (no prior medical condition specifically breathing related) and can endure weather conditions.
Question : Which mobile network service is good in Leh?
Answer : The best network in Ladakh is BSNL followed by Airtel Question :
What is local cuisine of Ladakh?
Answer : Vegetarian: Tsap Thuk , Thud, Sku, Thukpa, lotus root Non-vegetarian: Tigmo, stew, Momos, Tabaq Naat
Question: What is the average cost of meals not included?
Answer: On an average a meal can cost between Rs 200 - Rs 300 per person Question: What is the room sharing basis? Answer: All our rooms are on double sharing basis.
Question: Can I get a room to myself?
Answer: Yes. Subject to availability. Please contact us for costing for the single occupancy room
Question: Are you open to customization?
Answer: YES, If you want us to design a customized itinerary for you and your family/friends, reach out to us at info@travelmite.com or Call us at +91 88999 12399 / +91 79068 25679 .
Question: Where is the nearest hospital facility available?
Answer: Leh Town has fully equiped govt hospital facility available.
Question : I have asthma, can I travel to Leh?
Answer: We have had many participants in the past who suffer from asthma and have travelled to Leh with us and not faced any complications. However, it is important that you check with your doctor before signing up for any high altitude trip.
Question: I'm above 60. Can I join this trip?
Answer : Age has never been a a factor for us. But you need to understand the demanding nature of any road trip. You will be traveling and spending a lot of time in the vehicle, the roads in certain stretches might be bad & bumpy and the weather could be a challenge for some senior citizens too. However, if you are up for the adventure, we are here to ensure we make the trip as comfortable as possible for you.
How to Reach
By Air (Recommended) The nearest airport is Kushok Bakula Rimpochee Airport located in Leh. This airport is just 3.8 km away from the main city. It is well connected with many international airports in India like Delhi and Mumbai. By Road From Jammu and Kashmir or from Manali, if you're planning to approach Leh in a bus, get ready for an adventurous bumpy ride. It's got what it takes to become the ride of a lifetime and will take at least 4 days (starting at New Delhi).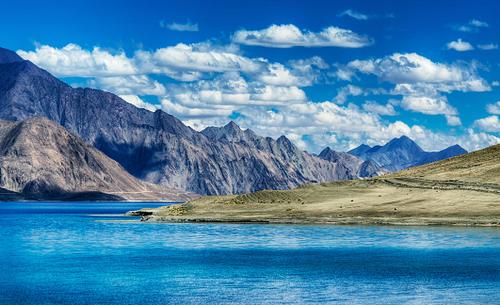 Starts From22000
per person
---
---
Need Help? Directly Contact Host
Request Callback